Touch-A-Truck®️ Family Festival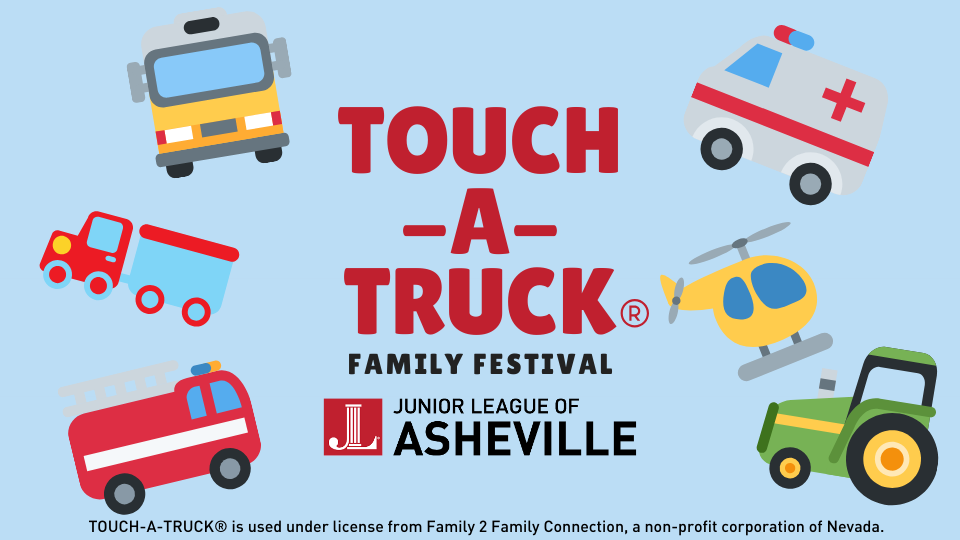 The Junior League of Asheville is pleased to announce the
2023 TOUCH-A-TRUCK®️ Family Festival
Saturday, October 28, 2023 at Asheville Outlets
Touch-A-Truck®️ is an annual, community-wide event where both kids and kids-at-heart have the opportunity to see, touch, climb, and learn about vehicles of all types! Guests will get to meet the trucks and the drivers who operate them. Children will also be able to "Truck-Or-Treat" during the festival! Family-friendly costumes are encouraged but not required.
Additional activities for kids and adults will be on-site as well. Please follow the event on Facebook and subscribe to our newsletter for updates and more information!
*Parental supervision is required and cameras are highly recommended to capture the day's adventures. (see below)
*There will be a quiet hour from 11am – 12pm for individuals sensitive to loud noises.
*All children must be supervised by an adult. The Junior League of Asheville is not supervising your child/children and can/will ask you to leave if you are not supervising/allowing other children to be harmed by your lack of supervision/child's behavior.  The Junior League of Asheville will not be held responsible for bodily harm or personal injury of the participants at TOUCH-A-TRUCK.
Join us at Touch-A-Truck®️!
Tickets for Touch-A-Truck are $5 per person for ages 3 and up. 
Purchase Tickets Here – You do not need to print tickets or show a receipt. Please check in at Will Call with the credit card holder's name to redeem your ticket(s).
You can pay with cash or card at the gate.  Exact change is appreciated!
Children of all ages are bound to be enthralled with all there is to explore!
*Use the hashtag #JLATouchATruck2023 for the opportunity for your picture(s) to be featured on our social pages and website. By using this hashtag, you allow permission for us to use this content.
Other ways you can participate!
If you are interested in participating in Touch-A-Truck®️ as a nonprofit or community organization or have a vehicle you'd like to donate please contact TAT@juniorleagueofasheville.org.
If you or your business are interested in sponsoring TOUCH-A-TRUCK®️ Family Festival please reach out to sponsorships@juniorleagueofasheville.org.
The Junior League of Asheville organizes Touch-A-Truck®️ Family Festival for the community to enjoy as well as to support the League's mission of promoting voluntarism, developing the potential of women, and improving our community through the effective action and leadership of trained volunteers. Proceeds from this event fund the Be The Change Grant Program.