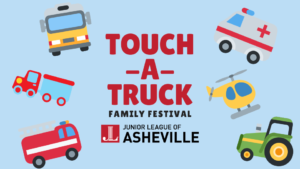 After much deliberation, The Junior League of Asheville decided to cancel Touch-A-Truck for 2020. Due to COVID-19 and the increasing number of infections, we did not feel that it would be safe for the community and our members to hold the event.
We look forward a new Touch-A-Truck event soon!
Touch-A-Truck is a community wide event where both kids and kids-at-heart have the opportunity to see, touch, climb, and learn about vehicles of all types, including public service, emergency, utility, construction, garbage, transportation, delivery, and even a helicopter – all in one place! Children are able to touch, climb aboard, sound the horn, and meet the people who operate these vehicles. Drivers and operators are onsite to talk about the vehicles and their operation. Children of all ages are bound to be enthralled with all there is to explore.
Additional activities on-site are not-for profit organizations, activity tents, food and beverage stations, and several other special attractions help to add to the event's appeal. Parental supervision is required and cameras are highly recommended to capture the day's adventures and take home wonderful memories to share.
The Junior League of Asheville organizes Touch-A-Truck Family Festival for the community to enjoy as well as to support the League's mission of promoting voluntarism, developing the potential of women, and improving our community through the effective action and leadership of trained volunteers.