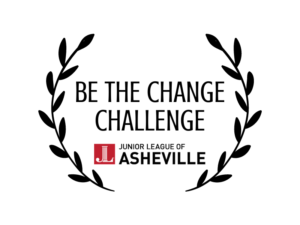 The Junior League of Asheville awarded $5,000 in grants to five nonprofits during its inaugural Be the Change Challenge Grant + 5K/10K in 2021. The recipients of the grants were: Western Carolina Rescue Ministries, Project Dignity, Helpmate, Babies Need Bottoms, and Homeward Bound. Each organization received $1,000 to enhance and support their positive impact in our community.

The 2022 Be the Change Grant will support organizations that serve vulnerable individuals and children in Western North Carolina. The Junior League of Asheville will award grants of $500 or more to selected applicants. The total amount granted will be $5000. We will begin accepting grant applications in early 2022. Grant recipients will be announced in April 2022.
The Junior League of Asheville's Be the Change Grant will be limited to organizations in Buncombe, Haywood, Henderson, Madison, and McDowell counties.
The grant application link will be available on this page in early 2022.
Grant applicants will also need to submit the JLA Budget and Performance Management Form. The form is available in PDF or Excel format. Please email completed form to [email protected].