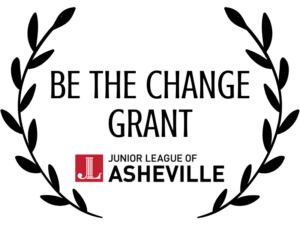 The Be the Change Grant supports organizations that serve vulnerable individuals and children in Western North Carolina. The Junior League of Asheville will award ten $1,000 grants in May 2024.   
The Be the Change Grant is limited to organizations in Buncombe, Haywood, Henderson, Madison, and McDowell counties.  The grant application process will be posted by February 15th and completed applications are due by March 30th.  Recipients will be announced on May 1st.
2023 Grant Recipients: In 2023, the Be the Change Grant Giving Program provided eight $1,000 grants to Eblen Charities, HARK, Loving Food Resources, Pisgah Legal Services, Project Dignity, Western Carolina Rescue Ministry, Youth OUTright, and YWCA of Asheville.
2022 Grant Recipients: Babies Need Bottoms, Helpmate, Loving Food Resources, Project Dignity WNC, and Read 2 Succeed.   
2021 Grant Recipients: Western Carolina Rescue Ministries, Project Dignity, Helpmate, Babies Need Bottoms, and Homeward Bound.