Thank you to all the participating organizations and interested volunteers that came out to the 2023 Volunteer Expo!
The 2024 Volunteer Expo date will be announced later this year! 
Sign up for our mailing lists below to be notified.
Wasn't able to make it to this year's Volunteer Expo? Below is the brochure for the 2023 Expo with a listing of all the participating organizations looking for volunteers!
Modeled after a job fair, the Volunteer Expo is an opportunity for residents of Western North Carolina to learn about local nonprofits, their volunteer needs, and other ways to support these organizations. To make this event a success, the League will partner with over 50 local nonprofits, including organizations that specialize in addressing health, poverty, legal aid, environmental stewardship, women's issues, arts, civic leadership, technology, education, and animal welfare.
Local nonprofits are an incredible asset to our community and are responsible for much of Buncombe County's progress. We believe that the Volunteer Expo will be a great opportunity for Western North Carolina residents to connect with outstanding nonprofit organizations, learn about what they are doing, and how they can contribute (time, talent, or treasure).
Interested in participating as a nonprofit? Please sign up for our mailing list here. 
Would you like to be involved as a sponsor? Please see our Sponsorship page here.
Would you like to be notified about next year's Volunteer Expo?  Please sign up for our community events mailing list here.
Do you have questions? You can contact email us at volunteerexpo@juniorleagueofasheville.org.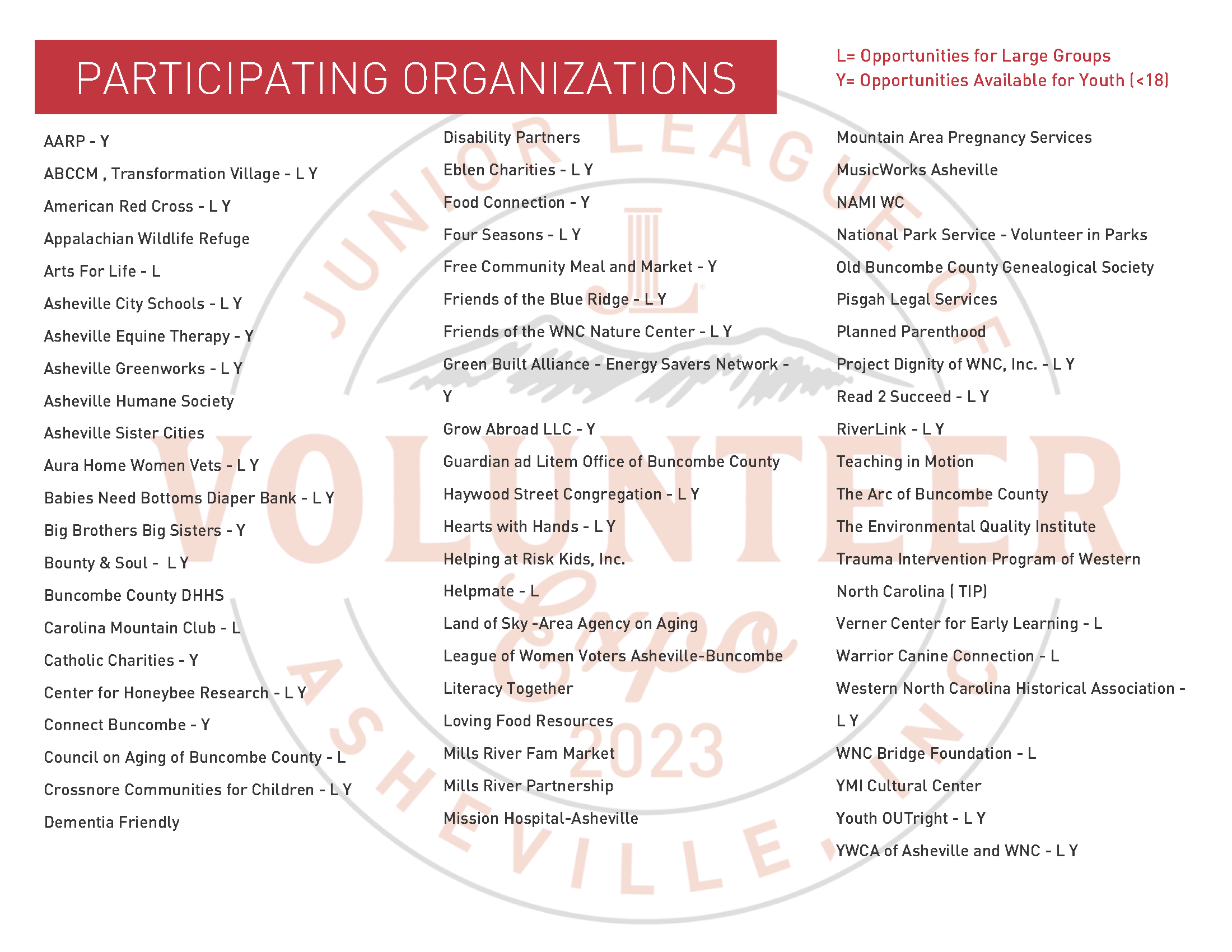 The Junior League of Asheville (JLA), is an organization of women committed to promoting voluntarism, to developing the potential of women, and to improving the community through the effective action and leadership of trained volunteers. Its purpose is exclusively educational and charitable.
For over 95 years, the JLA has been both a powerful organization of trained women volunteers and a vital part of the Asheville community.
Thank You to our 2023 Volunteer Expo Sponsors!